Clear Prophy Angles with Short "Turbine Blade" Cups Bulk Pack (500 pcs)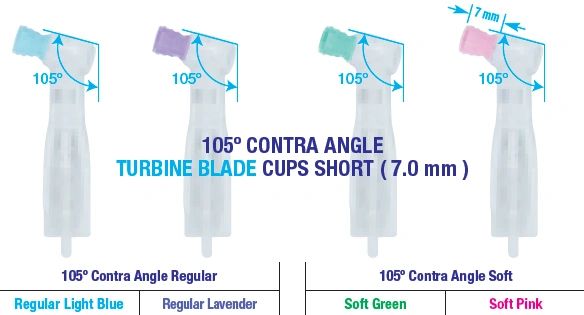 Clear Prophy Angles with Short "Turbine Blade" Cups Bulk Pack (500 pcs)
Clear Prophy Angles with Short "Turbine Blade" Cups Bulk Pack (500 pcs)
Cup Length: 7.0mm (Short)

Latex-free cups

Angled turbine blades retain prophy paste for reducing splatter

Ultimate smoothness with unique gearing

Exterior cross-spiral diamond ridges for improved interproximal cleaning

Speed: 1,500 - 3,000 r.p.m.
Special Offers: Buy 4 Get 1 Free (Same Item) or Buy 4 Get 1 Free Hygienic Handpiece w/ 3 Nose Cones [Offer A in our 2019 catalog. Click here for information about the handpiece]. Select applicable offer from the drop-down menu and enter purchase quantity before adding to cart. For example, select "Buy 4 Get 1 Free" and enter quantity 4.

SKU: CTS3399