LED Curing Light 90° Right Angle C-02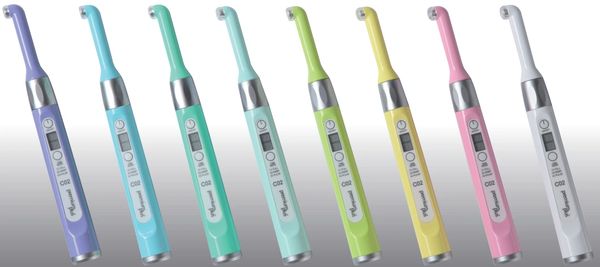 LED Curing Light 90° Right Angle C-02
C02 LED Curing Light (5 Watts) 90° right angle
Direct light source head 90

° for easy access to limited space areas
Radiant intensity: 750-1600 mw/cm²
Range of wavelength: 440-480 nm
A full charge of battery can be used more than 100 times when set at 10 seconds working time mode
Direct charging option from transformer for easy transportation and mobility
Complete with protective light shield and light sleeves (100 pcs)
Automatic compensation circuit for constant power output
Five modes of working time: 5, 10, 15, 20, 25 seconds
Three working outputs : 100%, 75%, 50%
Size: length 9 1/4" x dia 1 1/8"
Weight: 160 gm
Warranty: 2 years
Colors (subject to stock availability): Lavender, Blue, Light Blue, Green, Light Green, Lime, Yellow, Pink, White.
Special Offers:
1) Buy 1pc C02 Curing Light, get 1pc 063 Light Protective Hand Shield and 1pc C10 Light Meter FREE.
2) Buy 2pcs C02 Curing Lights, get 1 more C02 curing light, 3pcs 063 Light Protective Hand Shields, and 1pc C10 Light Meter FREE. Select applicable offer from the drop-down menu and enter purchase quantity before adding to cart. For example, select "Buy 2 Get 1 Free" and enter quantity 2.